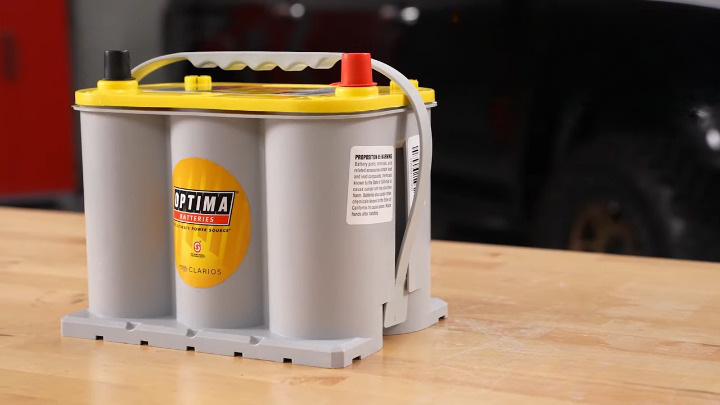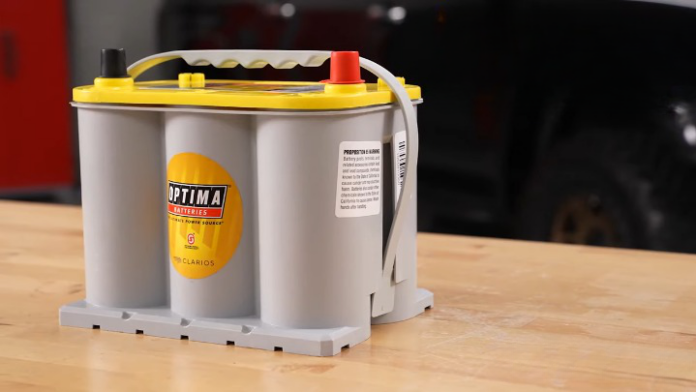 If you're looking for a high-performance dual-purpose battery, you have come to the right place.
Optima batteries are known for their special spiral cell AGM technology that lets them contain more power in a smaller area.
Out of Optima's best product lines namely the RedTop, BlueTop and YellowTop, the YellowTop excels in the dual-purpose functionality, which means that the battery can seamlessly work as both a cranking as well and a deep cycle battery.
In this article, we'll discuss the various features and applications of the Optima 8037-127 D27F YellowTop and find out if this is the best group 27 deep cycle battery for you. 
Most batteries are divided into cranking batteries or deep cycle batteries But nowadays brands are trying to push the best of both worlds together and trying to develop a dual-purpose battery that works effortlessly for all applications.
Let us discuss some of the features of this battery one by one in detail.
Optima 8037-127 D27F YellowTop XS Power D3100 Features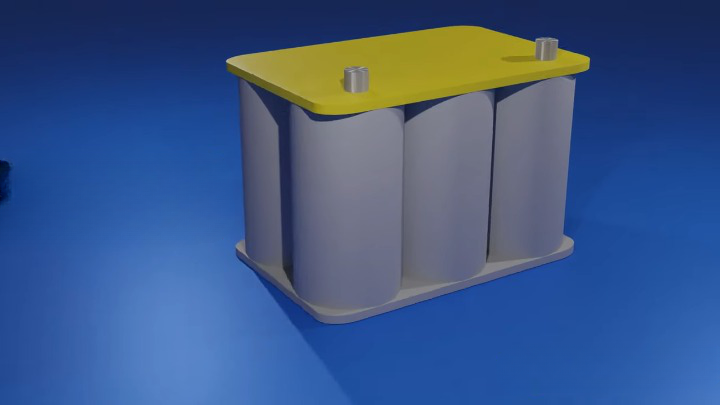 Dual Purpose Capacity
The battery is an excellent choice for people who need both deep cycle power and cranking power in the same package, This is the perfect battery for you if you want a battery for your car and also like to have a lot of electronics or accessories in your car.
The battery has a cranking power of 830 CCA which is greater than a lot of other cranking batteries. The CCA is greatly accompanied by an RC of 140 minutes to really help you squeeze the maximum out of the cranking power. 
Along with this the battery also has a deep cycle capacity of 66Ah, which is pretty decent and acceptable considering the battery also has great cranking power to add to the table. 
Cold Cranking Amps
CCA or Cold Cranking Amps is the measure of the cranking power of a battery. The higher the CCA, the easier the battery can start your engine. Cranking power is the most important factor for car batteries as, without proper cranking power, the batteries are practically useless.
It is also a good idea to invest in a good battery with a high CCA if you live in a cold-weather area or at high latitudes. Such cases make the engine harder to crank and the battery really has to exert a lot of pressure to get it fired up.
The YellowTop in discussion offers a high rating of 830 CCA which is excellent for harsh conditions and can be relied upon.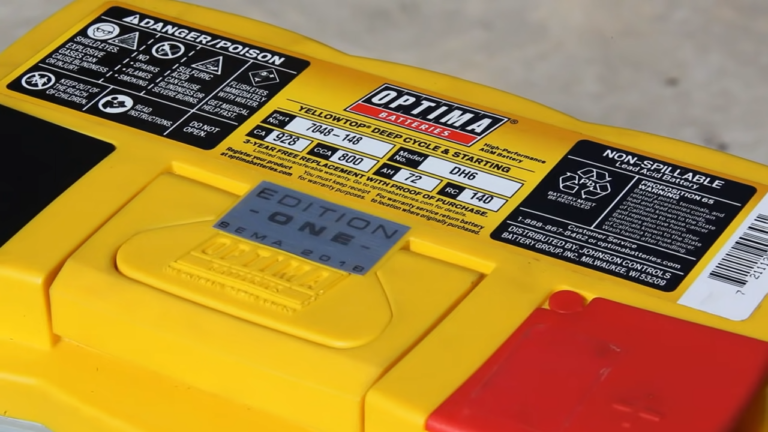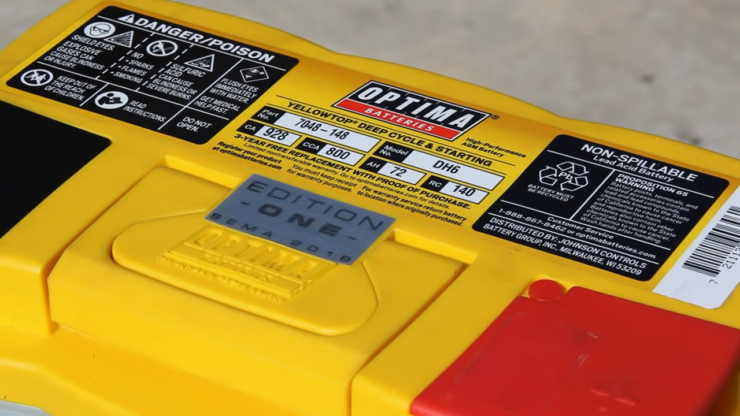 Reserve Capacity
Even if your battery has a substantial amount of cranking power, it is pointless without a good RC. RC or reserve capacity is basically the number of minutes the battery can crank before dying out. 
Technically speaking, RC is the number of minutes a battery can provide a current of 25A before dying. The YellowTop in the discussion has an RC of 140 minutes which is a very good rating and coupled with the 830 CCA, makes the battery a really good investment if you're looking for a cranking battery.
AGM technology
Optima batteries have a special AGM technology at their side. The Optima batteries use a spiral cell technology where the glass fiber is wrapped around spiral lead plates increasing surface area which in turn boosts performance. 
AGM batteries are becoming the common standard with every passing day as they are easy and safe to use along with no need for maintenance.
There is no liquid inside the battery and so the battery is completely spill-proof and can be used in any orientation without having to worry about spillage.
Optima 8037-127 D27F YellowTop Drawbacks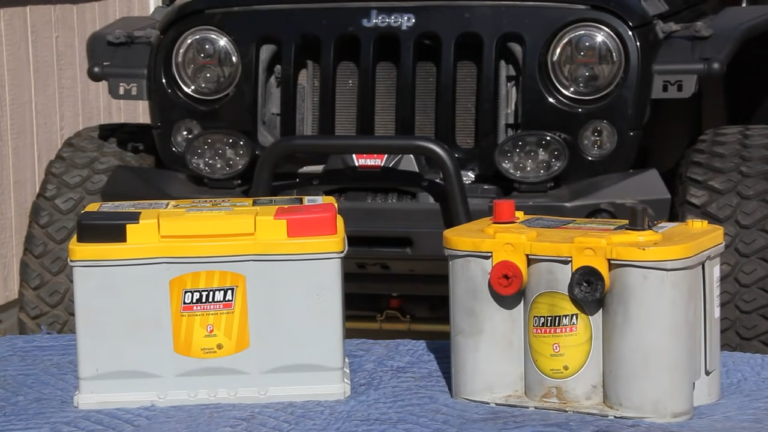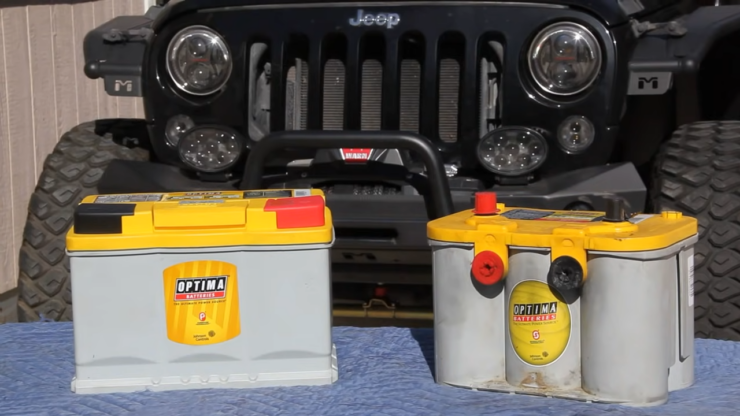 Overall the battery is a very good product but the fact the battery is actually a mix of two battery types also brings some limitations to the table.
This battery is only a good choice if you need a car battery with some deep cycle capacity. If you need something solely for deep cycling, chances are, this battery is not the right fit for you. 
The battery is pretty expensive but has a good price-to-performance ratio, and is only a good investment if this suits your requirement perfectly. 
Pros
Dual-purpose functionality
830 CCA, 1050 CA
140 minutes of RC
66Ah capacity
Amazing AGM technology
Cons
Somewhat expensive
Limited applications
Optima 8037-127 D27F YellowTop FAQ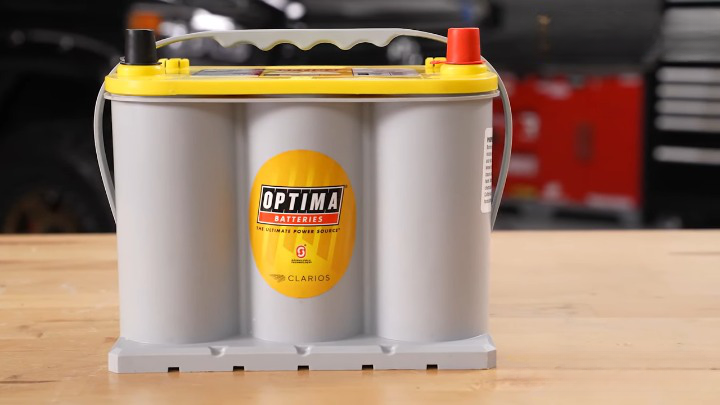 Is the Optima battery good for car audio?
The Optima YellowTop is an excellent choice for car audio as this battery has excellent deep cycle capacities in addition to cranking power. The YellowTop series is the best among Optima products when it comes to electronics.
Why are Optima Batteries so good?
Optima is a renowned brand mostly because of their amazing spiral-cell AGM technology. This gives the battery an excellent battery life as well as boosts performance.
Which is better, a yellow or red top battery?
The YellowTop and RedTop have very different functionalities. The RedTop is a cranking battery whereas the YellowTop is a dual-purpose battery. The YellowTop can be said to be a mixture of the RedTop and the BlueTop.
Final Words
The Optima YellowTop battery can be said to be a great product if what you're looking for is a car battery that can easily power your audio systems too.
The AGM technology is amazing, as well as the dual-purpose functionality which makes the battery the best of both worlds. However, it can be a bit expensive but again, the performance is also pretty great compared to the price.